Solar Battery Rebate: The Must-Know Complete Guide
Countries all around the world are beginning to see the huge benefits of solar batteries and the solutions they can offer for costs and the environment. Even our own state government in Victoria see's the benefit to solar batteries. According to Solar Victoria a solar battery can reduce household bills by $640 per year. 
This is exactly why they are offering such a fantastic solar battery rebate. Apart from South Australia (which has always had a really good battery scheme), nowhere else in Australia is offering a battery rebate as good as this. 
Admittedly, solar batteries are still quite pricey to some homeowners. Although battery prices are becoming more affordable, they're not quite there yet. This is where the solar battery rebate comes in… 
In this guide I will cover every aspect of the solar battery rebate, and what you should consider if you are interested in applying for the rebate. This guide should help you understand if the battery rebate is right for you. 
By the way, we've seen this battery rebate drop significantly from $4,714 to $3,500 and as part of the program, it will continue to decrease. If you are serious about wanting to take advantage of this rebate, now is the best time before it drops again. 
Well, without further adieu let's jump into everything you need to know about the solar battery rebate.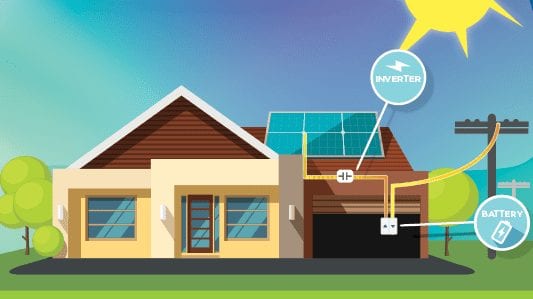 What Is The Solar Battery Rebate In Victoria?
The solar battery rebate is a scheme provided by Solar Victoria. This is the same governing body that provides the solar panel rebates. Their goal is to make solar batteries more affordable in Victoria and achieve this by providing large partial refunds (or upfront deductions). 
Victorians can claim up to $3,500 off the cost of a brand new solar battery & installation. This rebate is available for anyone who lives in Victoria.
These rebates will be done through separate release dates. Currently there are 1,861 rebates available in this release (at the time of writing this on May 16th 2022). Usually there are around 2 release dates per month, so there is no shortage of the battery rebate.  
Additionally interest free loans are not available with the solar battery rebate unlike the solar panel rebate. There are also some criteria homeowners must meet before they can apply for the rebate. 
Before, it was only available for homeowners who lived in eligible postcodes. However, back in November 2020 Solar Victoria made this incentive available for every postcode in Vic.

How Does The Solar Battery Rebate Work?
The easiest way to claim your battery rebate will be through your chosen installer. This is how we work at Lightning solar. Usually we will deduct the value of the rebate from your quote. This saves time for our customers. 
It also makes it much easier, as you can see a huge deduction from the upfront cost of a solar battery, which is where most people will struggle. When you claim the battery rebate yourself, it will come back as a rebate and not a deduction. 
Really, all you need to do is ensure you are eligible by applying through the Solar Victoria program here. Although installers can claim your solar battery rebate for you, we cannot apply for an eligibility number on your behalf. 
Once you have applied you will be granted your eligibility number and a QR code. Now you can move onto the next step to getting your solar battery installed at your home. This way you can see a more affordable upfront cost.

Am I Eligible For The Solar Battery Rebate?
Fortunately, the solar battery rebate's eligibility has become more flexible since last year. Before it was really quite tough to be able to claim the rebate. This is because it was only offered in specific postcodes. 
This meant that lots of Victorians were missing out on solar batteries because they couldn't afford one and couldn't claim the battery rebate. However, since then Solar Victoria has opened this up to anyone who lives in Victoria. 
Here are the current eligibility requirements:
Have a 5kW or bigger solar system installed on your home

Pre-approval from DNSP to connect your battery to the grid

Your property doesn't already have a solar battery

Choose a solar battery from the

Solar Victoria Approved List

 

You own/occupy your property 

Have a combined household income of less than $180,000 per year

Must be an existing property valued under $3million 

Haven't already taken part in any solar homes program

Owner agrees to receive information about battery trials 

Also agrees to a free safety inspection if selected 
Please Note* We have been made aware that any solar batteries that were installed before 1st June 2019 will not be eligible to claim the battery rebate. 
If you are interested, and you do meet this criteria its best to get your application through to Solar Victoria. Once you have got the go ahead from them you can start researching who you want to install your system. Feel free to get a quote from us, for the solar battery rebate here or a Tesla powerwall 2 here.

How Many Rebates Are Available?
Over the next 10 years, the government has pledged to provide the battery rebate for 650,000 Victorian homes. It's safe to say there won't be a shortage of solar battery rebates over the next few years. 
From this you can really see the future of batteries, and why governments are pushing them. Because they have so many benefits, they are widely encouraged. It's fantastic to see our state Government pledging to renewable goals like this. 
Anyway, it's best to keep checking how many rebates are left in each release. You can check through the Solar Victoria website here.
Can I Get The Solar Battery Rebate And The Solar Panel Rebate?
Unfortunately not. You will only be able to claim one. This means you will need to spend some time researching which one will be most valuable for you.
Homeowners who already have a solar system and are looking to get a battery can only claim the rebate if they never claimed the solar panels rebate for their system. 
Well, for some it really boils down to one question…
Which solar rebate should I choose? 
I suppose the easiest way to understand this is to look at which one you can get the biggest savings from. Right now, the solar panel rebate offers a deduction of up to $1400 which is less than the solar battery rebate, which is offering $3,500 off a battery. 
However, you may need to consider how much the systems will cost you. A battery is much more expensive than a solar panel system. Therefore, you may actually find that solar panels are the more affordable options. 
In saying this, you will find that you see the biggest deduction from the solar battery rebate instead, and this may be the reason why you choose the battery rebate after all.

How Many Times Can I Claim The Battery Rebate?
You can only claim the solar battery rebate once per household. This means if you get 2 batteries installed, you can only claim the rebate on one of these solar batteries. 
Additionally, it means if you are looking to get an upgraded battery or replace one you won't be able to claim the rebate for this either. 
Although frustrating this ensures that it's fair for all homeowners and provides opportunity for an equal rebate system. 
Are Solar Batteries Worth It?
Honestly, solar batteries are the future. Given how far they have come in such a short space of time, you can certainly see why. They provide a huge number of benefits to both the owner and the environment. 
Not only this, but solar batteries are an investment. A very low risk investment as well. You are likely to make your money back and more with a solar battery. On average, you can save up to $640 per year on your household bills, according to Solar Victoria. 
Solar batteries can also make you available for a Virtual Power Plant scheme. By doing this you are helping provide your community with clean, renewable energy at a very low cost. Right now, solar batteries are an extremely wise investment. 
If you are waiting for prices of batteries to come down, please consider that you may actually be wasting money by waiting. When you install your battery your bills can drop significantly. 
This saved money can go towards paying the battery off. If you wait around and don't install a battery, this money won't get saved, instead given to the grid. 
I go into much more detail about finding the best solar battery for your home here. You can find out more about why solar batteries are worth it in 2021 and more.

Overall, I'd say that the solar battery rebate is a really good financial incentive provided by Vic's state government. 
If you are looking to get the battery rebate, please feel free to contact us and get a quote. We can help you claim this rebate and ensure that you are eligible without wasting any time. 
Also, have a think about which solar rebate is more important to you. The solar battery one, or the solar panel rebate. 
Let me know your thoughts in the comments. 🙂
Luke Cove
Managing Director
Lightning Solar & Electrical