Canadian vs Jinko Solar Panels: The Not So Obvious Winner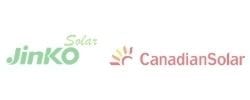 It's safe to say that both Jinko and Canadian solar panels are two of the most popular panels across Australia. Definitely in 2021, I'd say 5 years ago this was a different story. 
However, since they both increased their product warranties to 25 years I've seen the demand for these modules increase by a lot. 
Which is better, Jinko solar panels or Canadian solar panels?
Which would you choose, Canadian or Jinko?
Which of these two is the best solar panel?
I'm sure we are all asking these questions. We get asked about them every single day. Jinko and Canadian solar panels are two of the most popular solar panels in Australia. 
Ok so let's start off by saying that both of these solar panels are going to give you a very different outcome on your system so it's important to choose the right one. 
Again I want to state that both of these panels are good, high quality panels that I would recommend to my friends and family. What I'm going to help you decide is which one is going to be best for you. 
Now, if you're interested in either of these solar panels don't hesitate to request a solar proposal from one of my solar design engineers. They can also help you decide which one is best with designs, forecasts and predicted savings. 
You can contact me through my specialist Jinko panel page here or my specialist Canadian panel page here. 
Enough chit chat, let's crack on with this.

Why Choose Canadian Or Jinko?
Well the common reason why these solar panels are so popular is value. They provide incredible value for money.
When you look at the high end solar panels like LG and SunPower, the return on investment is so much longer than Canadian or Jinko. They cost more (for the sake of 2-3% more efficiency) and therefore will take longer to pay off.
Both Canadian solar panels and Jinko solar panels are really well priced. You are getting fantastic value for money with either of these solar panels.
Both of these solar panels are also pretty good when it comes to performance and efficiency 
At least once, they have both owned a world record for their solar panel conversion efficiency. However, Jinko has come out and smashed the world record for the highest solar cell efficiency in 2020, with an amazing 24.79%.
To be fair, Canadian solar did break the world record back in 2019, but Jinko has come out on top. 
In terms of the efficiency for the solar panels available in Australia, they are both extremely similar.
I would say that if you are going for the Jinko Tiger series, then this will beat Canadian solar. However, if you are going for the Cheetah series, it is about the same as Canadian solar HiKu and KuPower series.
How Do These Compare To High End Panels Like LG, SunPower & QCell?
We're all thinking about it. How do these both compare against the high end solar panels then?
Truthfully, the only areas I say the both fall short on are efficiency here and does that really matter? I mean 1% isn't a huge difference and may only result in a small amount of extra savings. 
Considering the price of an extra 1% is massively increased, I'd argue if you would end up saving the difference in cost of the panels. This is why I explain the efficiency of solar panels shouldn't matter that much. 
In the last 2 years we've also seen Jinko and Canadian increase their warranty to match the likes of Sunpower's unrivalled performance 3 panel. This resulted in Sunpower reducing their price.
To be honest, I'd say that Sunpower Performance 3 and Jinko 390w Tiger N Type are really close in performance, stats and price. These two are awesome panels that I'd strongly recommend to anyone. 
The Canadian HiKu 370w panel is pretty standard in performance to be honest but I think it's not quite in the range of Sunpower or Jinko yet. However, they've made a clever and bold statement by increasing their warranty to 25 years. 
Overall, each of these solar panels are good, high quality panels. The best way to find out which one is best for you is through understanding what you want to achieve from solar. 
E.g. If you want a quick ROI because you plan to move later in life then I'd suggest getting the Canadian 370w. However, if you're looking for a long lasting ROI with guaranteed results and performance I'd suggest Jinko or Sunpower. 

Both Solar Panels Have Increased Their Warranty To 25 Years…
As mentioned above, both Jinko and Canadian increased their warranties to 25 years on some solar panels. Jinko was the first to do this with their Tiger series. 
Back in 2021 Canadian followed with an increase on their HiKu p type series from 15 years up to 25 years. This is a pretty bold move considering all solar panels on a 25 year warranty are n type. 
However, I can't deny that this is good to see for the industry and shows that we are making progress with the longevity of the solar systems that we install. Now the products are good, we need to increase our standards for solar panel installation. 
So Jinko came in with a 25 year warranty on their Tiger series and a 20 year warranty on some n type panels. Canadians just increased their HiKu and didn't bother bringing out another module for this. 
The only thing that would potentially concern me is if Canadian can't back this warranty in 15-20 years time. Going from a 15 year warranty to 25 on the same product is a huge jump, especially on a p type panel. 
Therefore I'd have to say from backing with n type technology I'd probably say Jinko might have a more reliable warranty here.
I'd Say Jinko Is Better For Performance, Whilst Canadian Is Better For Payback Periods
With a little bit of a further look into these panels I can see that Jinko would probably be the best solar panel for performance. 
They are more efficient than Canadian modules and also use more advanced technology which is n type. This is the same technology used on Sunpower and some LG modules. 
However, where Canadian takes over is the very short payback periods that come with this solar panel. It boasts a strong 25 year warranty but still holds a very affordable price for homeowners. 
Therefore, you will be able to see a very fast ROI from Canadians, definitely quicker than Jinko. Not saying that Jinko is going to be slow, but more like a Canadian system is extremely fast. 
On the other hand though, the downside to this is that Canadian won't last as long and the performance over time will drop. As a result of this, Jinko comes in as the performance winner as it will not drop as quickly. 
So, you will get faster returns from Canadian but you will get much bigger and longer returns from Jinko solar panels.

Honestly, Both Solar Panels Are Good For Homeowners But Each Panel Will Get You Different Results
Now I know I've given these a good comparison however I'd like to stress what I always say. Both of these solar panels could be best for you. There is no one size fits all approach to solar. 
So, this means that you need to understand what you want to achieve from solar to work out which one of these panels is going to be best for you. 
I mean if one was rubbish then it wouldn't be so popular or have people comparing between the two. But that's not the case, both panels are high quality and popular with Australian homeowners. 
To give you a quick summary of what I think; I believe Jinko would be great for someone who is interested in high end panels but doesn't have the budget at the moment. 
You can invest in some high end products like panel optimisers or micro inverters but still use Jinko so you know that both of the products are quality and one doesn't get let down by the other. Additionally, you are interested in a battery in the future or EV charging system as well. 
I also believe Canadians would be best suited for someone who is only looking for budget systems and not looking for high end. This might be because they have plans to move in the future and take advantage of the solar rebate. 
Additionally, they might be struggling to pay their bills and just looking for the fastest way they can save money without having to invest too much. 
By understanding exactly what your goals are with solar you are able to quickly determine which panel is going to work hardest for your budget.
Comparison of Canadian Vs Jinko Solar Panels
Jinko Tiger Panel Specifications:
25 year product warranty (390w Tiger)
25 year performance warranty
5 busbar solar cell
Half cut cells
Low light performance
Positive power tolerance (0~+5w)
TUV Certified
Durability against extreme environmental conditions
Canadian HiKu Panel Specifications:
25 year product warranty (370w HiKu)
25 year performance warranty
Dual cell technology
Minimises micro-crack impacts
Poly technology
9 busbar solar cell
Micro-crack resistance
Durable against all weather conditions
Awards are pretty much proof that companies have produced one of the best products in the market. So it's enough to tell me how good a company/solar panel is. 
This is where Jinko completely takes over. Again, this is exactly what I mean by the performance of these solar panels as well. 
It's actually funny to say it, but Jinko is a 12 time world record holder. This makes Canadians solar 2 world records look like nothing. 
But let's be honest, 2 world records isn't nothing… It's a huge achievement but it's just overcast by Jinkos incredible technology and hard work.
Jinko Solar has also been awarded PVEL/DNV GL Top Performer award for 6 years in a row. This is one of the most impressive awards to get in the industry as it has a high failure rate. 
Canadian solar has only been awarded the top performer once, which was this year in 2020. However, in fairness to them they did smash all 4 tests and got awarded 4 top performer awards. 
This is really good news as it seems they are making some big improvements this year. It comes as last year they broke the world record for conversion efficiency as well.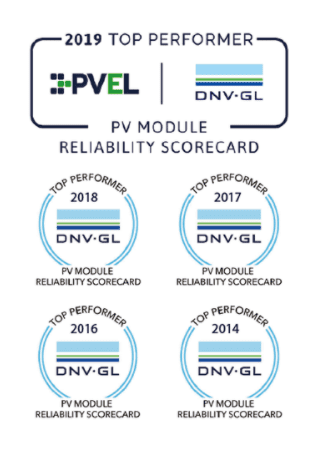 TUV Rheinland 'All Quality Matters' Award
BUT… It doesn't stop there with Jinko. Oh no, they have got even more awards. The TUV Rheinland All Quality Matters is one of the hardest awards to receive in the solar industry. Jinko has won this on several different occasions. Canadian solar has never won it. 
To be honest, this just kinda shows the performance and quality difference in the two panels which is just backing up what I said about them before.
Conclusion: Is It Canadian Or Is It Jinko?
Right so, you're probably still a little confused because I haven't actually said which one is a winner. 
And this is because it's impossible for me to say without knowing more about your solar journey. All I can say is that each of these panels are going to give you different outcomes. 
Jinko is long lasting performance & quality, I'd also suggest choosing these if you are adding any extra panel optimisers, batteries or EV chargers to your system to ensure one doesn't fail the other. 
Canadian is more about fast return on investment and affordable solar panel systems that might be suited to those who are wanting to quickly save money and take advantage of the solar panel rebates. 
Overall both of these panels are really good. They will both do the job and provide you with a good, high quality solar panel system. 
I would highly recommend both of these solar panels and look forward to seeing what new technology they create over the next few years. 
I'm interested to see what you guys think, so let me know in the comments. 
Would you choose Jinko solar panels or would you choose Canadian solar panels? 😁
Luke Cove
Managing Director
Lightning Solar & Electrical