Fronius Inverter Review: Are There Any Better Inverters?
Well, we pretty much all know just how popular Fronius inverters are across Australia. If you don't, I'll help you by letting us know that these inverters have been in our top sellers for 5 years in a row… 
Yes, so they are well known and very popular. This is most likely due to the high quality of standards they provide to homeowners. Not only this, but a high performance as well. Adding a Fronius inverter to your system will ensure you're maximising your energy output and potential savings. 
But you're probably wondering… "How good are Fronius inverters?", "Are they the best inverter in the industry?" And honestly, "Are fronius inverters worth my money?"
Well, don't stress. We're going to be covering all kinds of areas in this comprehensive Fronius inverter review. Seriously, I mean from the noise of the inverter, the efficiency and performance all the way to the places of installation and even how Fronius compares to other inverters.
If you are interested in getting a solar proposal for a Fronius inverter, please feel free to contact one of my solar design engineers to request one here. 
Let's get stuck into this full Fronius inverter review then.

Fronius is an Austrian energy technology company founded in 1945. They're very well known in the solar technology world due to the performance and especially reliability of their solar inverters. 
Of course, because of this their reputation for reliability has served them well and has catapulted them to the forefront of the solar inverter industry. If you're wondering why, it's  because solar inverters are one of the most complex components of a solar energy system. Faults often cause complete shutdown, so reliability is very sought after.
Fronius took the leap into solar technology in 1992 becoming one of the pioneering companies in modern-day solar. With their extensive history in energy technology, it comes as no surprise that Fronius is now seen as an industry leader in their field.
Where are Fronius inverters made?
Fronius solar inverters are designed and manufactured in Austria. Fronius's headquarters are in the town of Pettenbach, where they also have a factory. The reason why this is important is because the standards of quality that come out of Europe are much higher compared to places like China, or South America. 
Interestingly enough, this gives us as the buyers a huge peace of mind knowing both the engineering and the manufacturing process would have gone through a strict quality control and a high processing level. European made products not only come with longer warranties (such as SolarEdge systems 25+ years), but it's suggested that the manufacturing process is greener compared to China as well. 
For me, this is a big yes factor when it comes to investing in Fronius compared to other solar inverters simply because you already know products from Europe are more reliable.
Do they have offices in Australia?
Fronius do have some offices locally here in Australia. Their offices are in Melbourne. Although they don't have the biggest presence here in Australia, they do have an office which is somewhere you can either call, email or contact support. However, most of their resources are in Europe. 
Something that I thought was quite cool is that they have an Australian section on their website, which you can see here. This shows that they are dedicated to the Australian market and want to further grow in the future. 
Now, the reason why this is so important is because as a buyer you want to ensure that if anything goes wrong with your fronius inverter, you can contact support immediately. Having to contact support in Europe would be a nightmare. 
You can also ask any questions and contact their support team at any time. It's also nice to know that they have plans in expanding their presence in Australia and makes us feel more secure that Fronius inverters are going to be around for a while.

Types Of Fronius Inverters
Ok, so let's take a look into the Fronius modules that are available in Australia. These are the most popular ones on the market as well, so you might know them from your neighbours or doing some research online. We will start with the most basic and move to the more high end inverters that Fronius has engineered.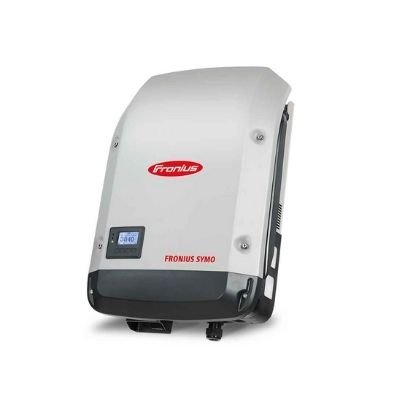 The Fronius Symo range is an excellent, three-phase inverter that is designed for a wide range of system sizes. Fronius's SuperFlex Design is present here, providing a solution to installations on difficult or awkward roofs. 
In short, the superflex design allows for a more flexible design even with a string system. It also helps with minor shading issues allowing you to run the whole system using 1 or 2 strings. 
Usually though, if you do have any shading issues I'd strongly recommend looking at SolarEdge panel optimisers or checking out Enphase micro inverters. I've actually written a full review on both. You can view my SolarEdge system review here. If you'd like, you can view the Enphase energy system review here. 
It comes equipped with WLAN & Ethernet capability as standard, allowing it to be connected to other devices for easy analytics and info on consumption. All power categories for this great inverter run from 3.0 to 20.0KW. 
This is ideal as it allows the inverter to be compatible with the majority of setups.  I love how flexible this inverter is – Fronius really did a great job here at creating a great all-rounder suitable for the mass market. I'd definitely recommend this to my friend and family, and therefore would recommend it to you as a fantastic inverter solution.
97.7% Max efficiency  
Regulated air cooling
Transformerless inverter design
Ambient temperature range -40 – +60 °C
Wall mounted 
2 x MPP trackers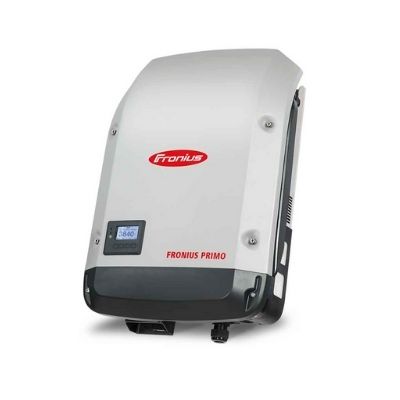 So then we come to the cool Fronius Primo range. This is probably the most popular inverter in the industry, and definitely out of the 3 inverters Fronius are offering here. When you compare this to the Symo range there are some similarities but also some differences. 
For starters, the Primo powers much smaller systems ranging from 3kW to 8.2kW meaning this would be best suited for single phase homes. As noted above, the Symo has a much bigger power range. 
However, like the Symo the Primo range uses similar technology like the superflex design. One thing that is popular, and makes the Primo stand out is the availability for connection options which allow you to track your energy. 
This visibility goes a huge way and allows you to monitor if your system is down, and how much energy you produce. You can do this by looking into the Fronius smart meter. If you're interested, reach out to our team who will be able to help you get a price and with a quality installation. 
Overall, this is a really, really good inverter. Hence why it's so popular. It compares well with all the other inverters in the market. If you want to see a comparison between Sungrow, Fronius and Growatt, check it out here. 
97.5% Max efficiency  
Regulated air cooling
Transformerless inverter design
Ambient temperature range -40 – +55 °C
Wall mounted 
2 x MPP trackers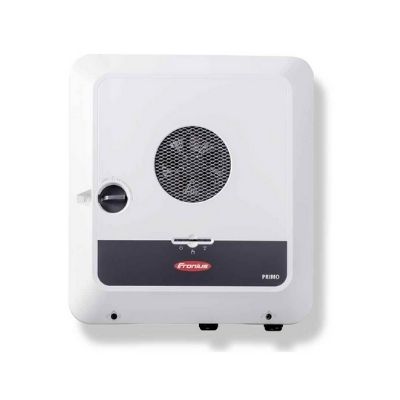 The Fronius Gen24 range is a fantastic bit of kit. It's one of the more premium offerings from Fronius and it has the specs and tech to back it up. As a hybrid inverter, the Gen24 is equipped with two great power backup options. 
To quickly summarise a hybrid inverter, this means it has the option to send power to your home for use, and also send any excess power into a solar battery to get stored. However, you can also use the hybrid inverter without a battery and export the excess power back to the grid. It's only worth doing this if you haven't been slapped down with a solar export limit. 
The PV point is a basic backup power supply that is integrated in the Gen24 itself. In the event of a power outage, it can supply a household with 3KW of power. It's low-cost, reliable and is great peace of mind for homeowners.
The full backup is able to power a whole household and integrates with an external energy storage solution. Other features of the full backup include an auto switch to backup power in the event of grid failure.
To be honest, this is definitely one of the more high end inverters in the industry and would certainly suit some homeowners. However, it might not be necessary for other homeowners. It's best to either do your research, or speak to a solar engineer who can consult you with your best options.
97.8% Max efficiency  
Regulated air cooling
Transformerless inverter design
Ambient temperature range -25 – +60 °C
Wall mounted 
1 x DC connection
How Efficient Are Fronius Inverters?
Ok, so let's go through a few factors here. Fronius certainly comes with a fantastic reputation and high quality components. However, it's not quite the industry leader in efficiency. Now, this shouldn't be your biggest buying factor when it comes to choosing a solar inverter and I'm going to explain why in just a moment. 
Generally speaking, residential inverters hit around the 95-98% range in efficiency. The Primo comes with a 97.3% to 97.5% depending on the inverter size. When you compare this to their rival Sungrow, they actually get beat. Sungrow comes in at a 98.4% efficiency. SolarEdge blows them both out the water with a whopping 99% efficiency. 
However, here's the catch 22. For the sake of 1% efficiency increase, I wouldn't really consider that a big enough change to motivate my buying decision. Therefore, I would say that efficiency shouldn't really matter too much to any homeowner who is interested in getting an inverter. They're all pretty similar, I'd focus more on which one is going to work best with my system design.
Are Fronius Inverters Noisy?
Most inverters use a heat sink to ensure proper cooling. Fronius inverters on the other hand rely on a fan to provide cooling in their systems. 
This method of cooling is called active cooling. This technology is more complex than the more common heat sink cooling, but it's said to pay off in the way of better performance and reliability. Fronius are well known for both having high performance and high reliability when compared to other brands – perhaps this is the reason why.
Active cooling does however mean that Fronius inverters can run slightly louder than other inverters during peak solar production times. This is because the fan begins to start running. We find that a lot of customers do not consider this an issue. 
To be honest, again I wouldn't say this is an issue worth changing your buying perspective on. If you have a good solar engineer, they will be able to design your system with this in mind and therefore sound will not be an issue. 
For anyone who has a Fronius inverter, feel free to leave your thoughts in the comments below and share with everyone if it's an issue or not.

Where Can You Install Fronius Inverters?
Fronius inverters are easily installed and just require a flat wall. Fronius's SnapINverter design comes in handy here. Fronius inverters are easily hung inside a wall bracket that contains all the wiring. Fronius inverters should be accessible – placed no higher than 2m.
You will be able to install a Fronius inverter both inside and outside of your home. It's recommended not to install the inverter in direct sunlight and if it is outside, you should look at getting a weather cover to protect it. 
Again, this is really where you need the help of solar design engineers. They will be able to advise you on the best areas of your home to install the inverter. It's easy to forget all the factors to consider such as the cable runs, switchboard location, panel arrays and other electrical requirements.
How Does Fronius Compare To Other Inverters?
Fronius inverters are at the top of their class when comparing them to the competition. As I mentioned earlier, Fronius's quality, reputation and warranties lead the industry. 
If I'm honest, I'd say it's a close one between Sungrow and Fronius. However, I might admit that SolarEdge (on paper) is the best inverter in the industry. However, most homeowners won't require a SolarEdge inverter and therefore Fronius would be perfect (Here's a full comparison between fronius and solaredge).
The SnapINverter design offered by Fronius is a great offering. Opening up the inverter for servicing is a breeze. Unlike a lot of other inverters on the market, it doesn't require removal of the unit from the wall. This means that if there are any issues in the future, you can get it fixed quickly and effectively without any stress. 
Overall, I want to stress that it's not about the best inverter in the industry. It's about the best inverter that's going to work hardest for you and what you want to achieve with solar. If you are looking for fast ROI or long lasting, bigger ROI. 
Every homeowner is different and therefore every system needs to be tailored. Each inverter will work differently for what the homeowner wants to achieve. It's all about finding the inverter that is going to work best for you.

What Warranties Do Fronius Offer?
Fronius inverters actually have one of the best warranties in the industry. They come with a standard 5 year warranty which is extendable for another 5 years. So, you end up getting a 10 year warranty on your solar inverter.
To be honest, I'd definitely say that your Fronius inverter is going to last longer than 10 years anyway. But at least you have the peace of mind knowing that it's guaranteed to last this long. From what I've seen in the past, these inverters can last more like 15, up to even 20 years. That's a huge return on investment… 
However, this has been quickly followed by Sungrow who are closing in on Fronius. They also offer a 10 year warranty. These are the two inverters which are leading the way. Most other inverters like Growatt or Goodwe only offer 5 years.
What Is The Monitoring Like With A Fronius Inverter?
Ok so yes, you can get some really good monitoring with a fronius inverter. They have a great app called solarweb which will show you real time solar generation as well as daily and monthly solar generation history.
Although, if you would like to see how this compares to your house consumptions and how much power you're feeding back to the grid you will require a smart meter.
However, if this is your biggest factor then I'd suggest looking into something like Enphase home solutions which you have total visibility on. You could also check out SolarEdge which again offers full visibility that's included with no extra cost (plus a bunch of other benefits).
If you want to give it a read, here's a comparison between string inverters (Fronius) vs micro inverters and panel optimisers. It might be helpful in deciding which is best for your home. 
Either way, when it comes to getting your Fronius smart meter you will then have access to the following:
The Solar.Start app is easy to download onto your iPhone or Android device. It allows you to configure your inverter in just a few minutes. It automatically connects to your inverter provided it is in the vicinity, and allows you to both setup the full warranty and easily set up the Solar.Web tool.
The Solar.Web tool is your suite for monitoring your inverters system data, such as its power consumption or efficiency. You can access Solar.Web both from a computer and mobile device making it easy to see the device's status wherever you are. One thing I love is that the Solar.Web tool even allows you to set up alerts and run simulations.

Right, so here's our full review on Fronius inverters. I've chosen to rate them on performance, price, warranty and efficiency. These are the main factors that we consider to be the most important. I've also rated these out of 10.
As far as it goes, Fronius is priced well for what you get. Although there are some other cheaper options you will be investing in quality with fronius. It goes back to the old saying, you get what you pay for. 
Fronius inverters are always going to be a more affordable option compared to high end inverters like SolarEdge or Enphase. Therefore, for what you are getting I'd say it's a very fair price.
Coming up the top with Sungrow offering a 10 year warranty means that Fronius is leading the way with their warranties. Again, as I mentioned before I truly believe your inverter will last longer than 10 years. 
As far as bankability goes, you can have a huge peace of mind knowing Fronius has been around since 1945… It's safe to say if they've been around this long, I can't see them going anywhere soon 😆.
Although there are some other inverters that beat Fronius, they are still coming out in the top 3. This suggests to me just how good they are. Don't forget, they are only missing out by less than 1% in some areas! So the difference is minor. 
Overall, Fronius inverters do have a really high efficiency rating and are leading at the top with the big boys and the high end solar inverters.
Lastly, the performance of Fronius is extremely high as well. You can be sure that you will be seeing a big return on investment from this system in years to come. The technology that is used is leading in the industry and results in extremely long lasting and high performance. 
When pairing Fronius with your system you can expect to see greater returns, and higher energy output. This is exactly why they are so popular in Australia.
Well! That seems to be everything covered about Fronius inverters. I hope you feel more educated on them now and can make a decision on whether or not they are right for you. 
Again, like I always do… I want to stress that technically there is no best inverter for each homeowner as it's going to be different for everyone. There might be the best on paper, but this might not actually suit what you want to achieve with solar.
Or it might not suit your energy bill, budget or roof design. Therefore, it's always wise to go ahead and get a free design proposal from a solar engineer. Hint hint! We're here to help you 😁. 
At the end of the day, Fronius inverters are a fantastic solution for homeowners and I'm really happy to be recommending and installing their products. 
If you have any questions, or thoughts please share with us in the comments below. We'd all love to hear what everyone thinks.
Luke Cove
Managing Director
Lightning Solar & Electrical