Fronius vs Sungrow vs Growatt Inverter?
Which Is Australia's Best Inverter?
What is the difference between Fronius, Sungrow and Growatt? 
Which of these is Australia's best solar inverter? 
Which of these inverters is BEST for your solar system?
As the director of an Australian solar retailer, people ask me this question everyday and often there isn't an easy answer. These are 3 of the top selling string inverters in Australia. 
I'm sure you are all eager to find out which one is the best inverter… but I want to help you understand which one will work hard for you and your budget.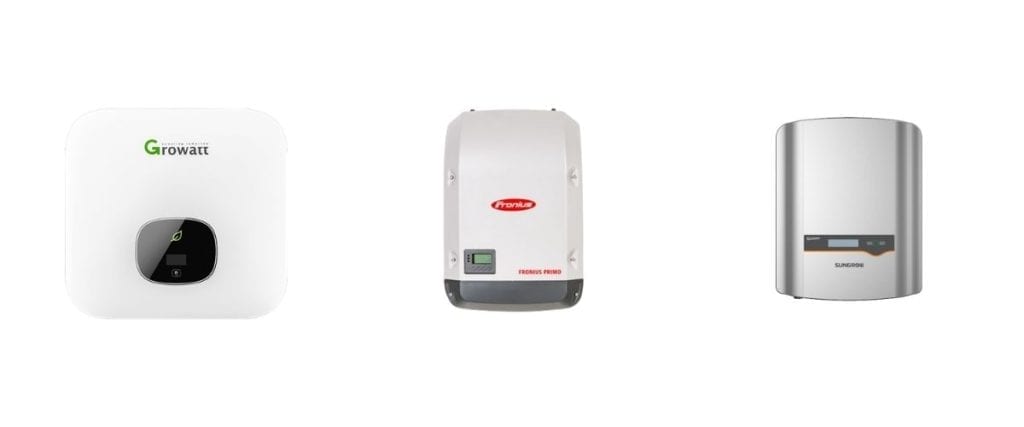 Fronius vs Sungrow vs Growatt
How do you decide…? I am going to run your through exactly HOW to find out which inverter is best for YOU.  If you're interested in knowing a little bit more, I've written a complete review on Sungrow inverters here. 
The first thing to consider is your budget.
For those who have a small budget then its best to look towards the Growatt inverter. It's affordable, high quality and is backed up by a 10 year product warranty. You can certainly rely on this inverter to give you a great long lasting performance for a low cost. 
If you have a little bit of extra cash and want to invest a little bit more into your system then Sungrow is the product you are looking for. Considering the quality of Sungrow's inverters they are extremely well priced. This is a very high value inverter when you compare performance to price. 
Of course, here comes the most expensive of the bunch… Fronius. High quality and high performance so with this one you are getting what you pay for. Is this a European brand premium or is it backed by quality?
So In Conclusion:
Low Budget = Growatt
Mid-Range Budget = Sungrow
High-End Budget = Fronius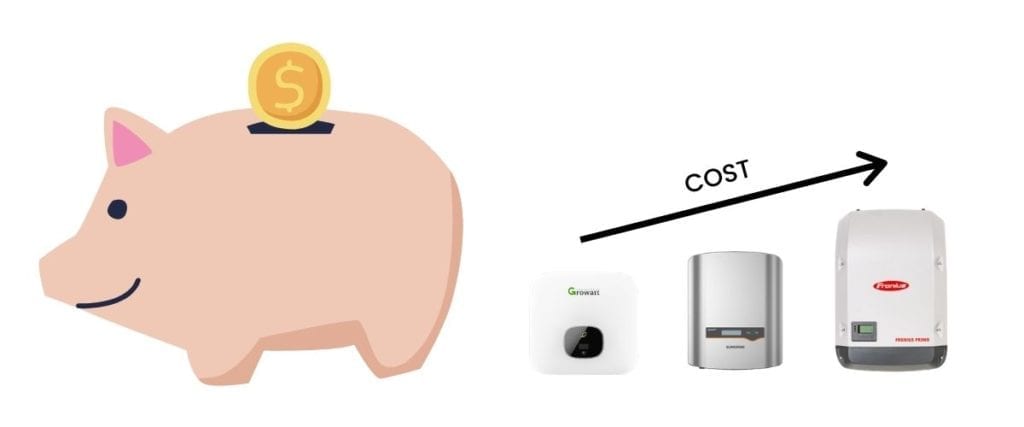 Is The Only Way Fronius?....
If you ask around the solar industry or do a little googling, 90% of people will tell you Fronius is the BEST solar inverter for Australian solar systems.
This is probably true…
HOWEVER, It is also the most expensive inverter. In fact it is 3 times the price of a Growatt solar inverter. So is it 3 times better?
Fronius and Growatt both come with a 10 year warranty.
Both also have similar efficiencies, we will go into more details further down. At Lightning Solar & Electrical we have installed thousands of solar systems with these inverters between Melbourne, Brisbane and Adelaide solar installations.
We have only ever had 1 warranty claim with Growatt and they replaced it in 3 days and paid our labour cost to replace it. 
Not bad hey?
But wouldn't you rather not rely on the product warranty and know the product your buying is from a brand that has been around long enough to prove their long term quality?
Well that's where Fronius is superior.
Fronius have been around for decades making inverters out of Austria in Europe. They have been at the top of the solar industry for longer than anyone and that speaks for the quality of their product.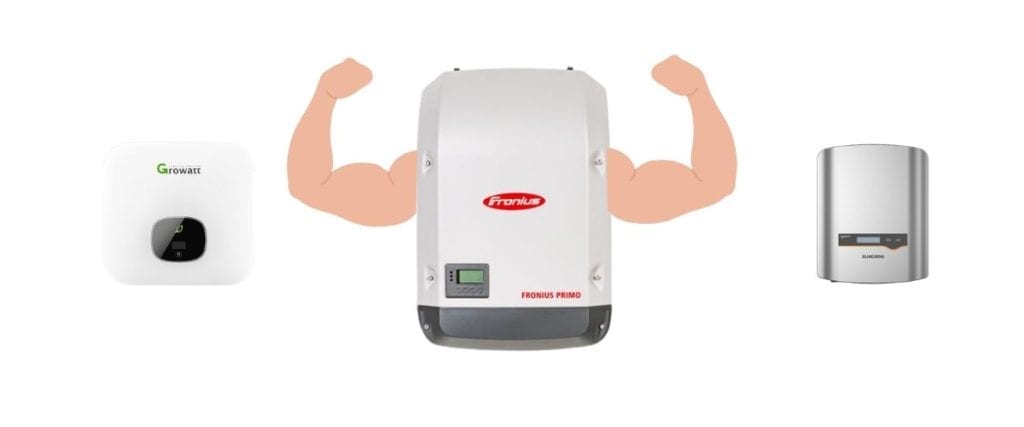 But the solar salesman offered you a Sungrow inverter?

Wooaahh, why throw this in the mix?...
Sungrow Premium inverter is a great compromise. They are proven to give a high performance. 
Sungrow is the second biggest inverter manufacturer in the world, behind Huawei solar inverters. They make an amazing premium inverter that also comes with a 10 year warranty.
They definitely have earned that reputation over the last few years for being one of top inverters on the market.
Although not quite as notorious as the big boy Fronius they are getting pretty close…

When it comes with a much cheaper price tag and with a 10 year warranty it is definitely worth considering!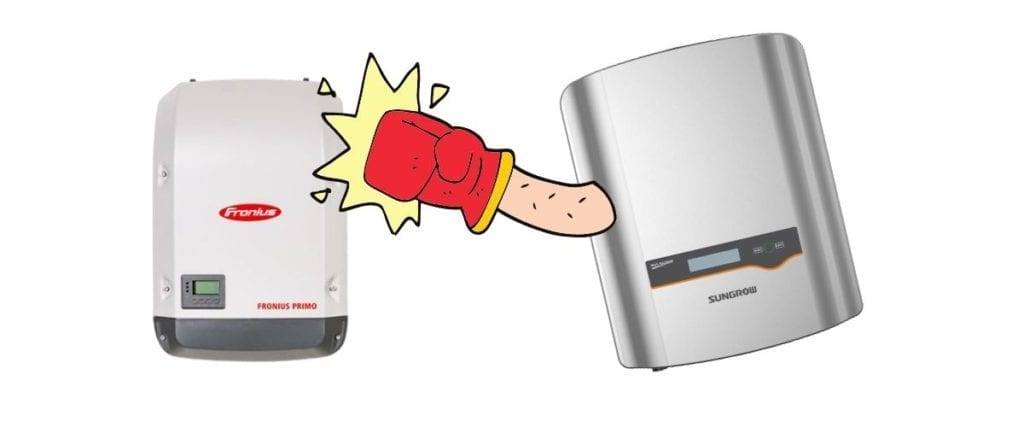 Sungrow And Growatt Beat Fronius In Inverter Efficiency
If you actually look closely at the specifications you will see that Sungrow and Growatt are around 0.6% more efficient than Fronius. This actually puts both of these inverters as two of the most efficient inverters in the industry. 
SolarEdge claims the top spot coming in at 99% inverter efficiency. Either way, it's really interesting to see that Fronius has been pushed down into a 3rd position when it comes to the efficiency of these inverters. 
On the other hand, I would like to stress that inverter efficiency shouldn't be the most important factor when it comes to investing in the right inverter for your solar system. Simply because it's such a small difference.
Only 0.4% difference really isn't much to fuss over. I mean, if it was 10% or more then I'd say it should be a big factor. You will see a little more energy over time however it wouldn't really be much.
Fronius Has The Bigger Bankability
So, Fronius definitely has the better bankability because the company has been around much longer and is backed by the Euro. To quickly run through why this is important is because of the warranties. 
When you buy a product that comes with a 10 year warranty it's nice to predict whether or not that company will be around in 10 years time if you need to claim that warranty. What's the point in offering a big warranty if the company goes bust and the warranty becomes void. 
The point of bankability is the insights into how well the company is doing financially and if they are at risk of going bankrupt and not being able to pay out warranties.  Fronius definitely comes with a bigger bankability compared to Sungrow or Growatt.
Therefore, I'd actually argue that Fronius has the stronger inverter warranty. However, I wouldn't say that either of the others cannot fulfil their promise and I've actually heard that Sungrow support is better than Fronius from some customers.

Fronius Uses A Fan To Cool The Inverter Down
One big difference between Fronius and Sungrow or Growatt is the use of fan cooling. It seems that Fronius is the only inverter out of the three that uses fan cooling. The other two use natural convection which is essentially natural cooling. 
Now, some people say that the fan is quite loud however I'd disagree and say it's no louder than a dishwasher. This also helps maintain the performance of the inverter giving it an edge compared to Sungrow and Growatt. 
This use of fan cooling can also help maintain the life span of your inverter because it's not getting hot, warped or worn down by the heat. Especially if we have a heatwave. 
It's hard to say if this really makes a world of difference though. To be honest, all three inverters are a fantastic option for homeowners regardless of the fan. I think if you are totally phased by noise then maybe Sungrow or Growatt would be your best option.
Which Inverter Is Going To Work Best For You?
Right, let's get down to business then. I'd just like to stress that I do not believe that there is a 'best' inverter out of these 3. Simply because I do not believe in cookie cutter solar. There isn't a one fits all inverter, it really depends on the homeowner, your goals and your budget. 
It honestly depends on your preference and design. For example, if you are planning on moving home in the future and just looking for a very fast ROI then I'd probably suggest looking at growatt or sungrow. 
On the other hand, if you are planning on staying at your home and wanted a more reliable inverter with the option to see your energy usage and lived in a hot climate, maybe Fronius would be the better option for you. 
I'd also suggest getting multiple system designs with a different inverter on each to decide which one is going to maximise your predicted savings and generate you the most energy.
Comparison Of All 3 Inverters
What I Think About This Inverter...
One of our favourite solar inverters to install in the Australian climate. Definitely one of the most popular inverters around the world, let alone Australia. Everyone has heard of Fronius and everyone wants their products. 
The primo is most popular and comes in a range of sizes from 5kW all the way to 10kW. This inverter has fantastic performance and comes with a strong 10 year warranty. It's safe to say this is a really good all round option for all homeowners. 
The only downside to the Fronius Primo solar inverter is the fan can be a little noisey. So make sure it's not installed on your bedroom wall!
Fronius inverters key selling points are;
European made
97.8% efficiency
Easy Installation
Great WIFI app
Inbuilt DC isolator
10 year extended warranty
Extremely reliable
Great aftersales and technical support from Fronius Australia
What I Think About This Inverter...
Sungrow inverters can be the perfect compromise between brand and price without losing any quality. They are taking the industry by storm with their high efficiency and long lasting warranty. Many people are starting to convert to the affordable Sungrow whilst still maintaining a high performing system.
These inverters are absolutely perfect for homeowners who are looking to maximise on their savings and generate a fast, but long lasting return on investment from their solar system. Sungrow is highly rated in Australia both by installers and homeowners. 
The only thing that may be in question about the Sungrow inverters are that they are made in China. While China now makes many great solar products there is still a stigma about this for some. But honestly, we think for the price tag this inverter gives Fronius a run for their money.
Sungrow inverter key selling points are;
High Quality build
98.4% efficiency
Great WIFI app
Quiet
Inbuilt in DC isolator, for a neat installation
Arc fault detection
10 year product warranty included
Sleek design
Great aftersales and warranty support
What I Think About This Inverter...
5 years or so ago Growatt inverters had a reputation as not being reliable. In recent years they have fixed all their issues and have since earned their new reputation of the best quality affordable solar inverter on the market. 
As I mentioned earlier, you could buy 3 of these for the price of 1 Fronius primo and hey, if it does the same job and you're on a budget that might be a gamble that is worth taking? Especially when it has the same warranty period as Fronius.
They're awesome at providing seriously fast returns and come with a matching warranty to last 10 years. It's enough to rival both Sungrow and Fronius. So which one will take the top spot? 
While these inverters are amazing bang for buck. My only issue is every time I have tried to call Growatt tech support they seem to be "out for lunch.." that said, they do get back to you and help with any issues eventually.
Growatt inverter key selling points are;
Affordability
98.4% efficiency
Nice design
Inbuilt DC isolator
Good wifi app
10 year extended warranty
To be honest, all three of these solar inverters are going to be a fantastic option for homeowners in Australia. I know it sounds vague, but each one is a good choice and have passed all the regulations and tests to get approved in Australia. 
Look, it's all about finding out which inverter is best for your home, budget and the system that you want. Every home is different, this is why we hate big companies offering cookie cutter solar. That shouldn't exist! One 6.6kw system for a particular home will be so different for another home… 
The best thing to do is understand which one is best suited for your requirements. This is why we offer solar proposals and not quotes. 
Like I said, each system needs to be specially designed and each inverter will do a different job or make the quote unique. You might find Fronius can offer 1 thing where as Sungrow offers another? 
If you are interested in a solar proposal to find out which one is best for you then get in touch with my design engineers on our Sungrow page here. 
Also, feel free to leave your thoughts on these inverters in the comments below! We've installed hundreds of all, so share with everyone your experience of these inverters 😁. 
Luke Cove
Managing Director
Lightning Solar & Electrical