Should I Install Solar Now Or Wait?
Energy Expert Reveals All
There is this huge stigma that waiting for the price of solar to come down is the best thing to do. Evidence shows that the cost of solar panels is decreasing every single year, making them more and more affordable for homeowners. 
In fact, back in 2020 the international energy agency (IEA) announced that solar power was the cheapest form of electricity in history. This was seen as a huge milestone for the renewable energy industry. 
Years ago, solar panels were seen as a new technology and rightfully, were expensive for everyone. However nowadays with government incentives and the cost of solar significantly dropping you probably know at least someone with solar, right?
So, the real question here is… Do you install solar panels right now, or wait until the price comes down even further? 
Would this be a wise thing to do? Or could this actually end up costing you more in the long run? 
I think it's become extremely fitting to update this article given the current energy crisis sending the solar market into unseen high demand in 2022. 
As the cost of living and energy bills begin to sky rocket, homeowners are realising how waiting for the cost of solar to come down is going to make them go broke. It's estimated that energy prices have risen 18.3%…
Logically, Does Waiting For Solar Panels To Come Down In Price Make Any Sense?
Ok, so firstly I just want to make my first argument about logic. I would probably say 8/10 people will get the answer they are looking for when they logically work out if they should install solar now. 
Put it this way, if you are spending $1000 per year on energy bills (which is not uncommon in Australia) and you think about waiting 3-5 years for the price of solar to become 'cheap' then it'll cost you $3000-5000 in energy bills.

What's worse, is that money has just been burned on electricity and not invested. If you had installed solar at this time, after 3-5 years you could have paid your system off, or at least a large chunk of it. 
Again, this works for someone who is paying $500 per year and those who are way up there with $2000+ per year energy bills. Every year you leave it, you are costing yourself money in these energy bills. 
What I'm trying to say here, is think logically about it. If you are willing to wait 5 years for the price of solar to come down… How much is that going to cost you? And can you buy a system with that money instead?
I suppose you are thinking, but what if the cost of solar panels drops faster than my costs of energy bills? I'll go into this in much more detail further down the page.

I Hate To Say It, But We All Know It… Energy Prices Are On The Rise
Look guys, I know we all hate to admit it but the cost of electricity isn't decreasing. It's always going to rise up and up and up. I'd say that COVID-19 pressures are mounting and prices are going to hit a high very soon. 
I'm only just talking about the near future as well? Looking ahead 5-10 years we may see the highest price of electricity in history. 
One solution to this issue? Generate your own energy. Don't become shackled into contracts with energy suppliers who can up their rates any time into your 4 year contract. That isn't fair. 
With solar panels you will have full control over your own energy, and not become stuck with the rising cost of electricity every year. 
UPDATE*: ABC News recently shared how the public are panicking due to these unseen energy prices. Some external factors have forced energy prices to an all time high in 2022 and with it, puts extreme pressure on the cost of living for homeowners.
One solution? Solar. It's predicted that energy prices will continue to rise and homeowners have realised that it's going to cost them 3-4 months of energy bills before they could have paid for their own solar system… 
It's not a question of should you install solar now, it's a question of how much you're going to lose if you don't install it ASAP.
Let's Look At The Cost Of Solar Decrease vs Your Energy Bills...
SolarChoice have done a fantastic graph showing the historic cost of solar and how it's decreased over time. By looking at this graph you can see just how much more affordable solar panels have come in under 10 years.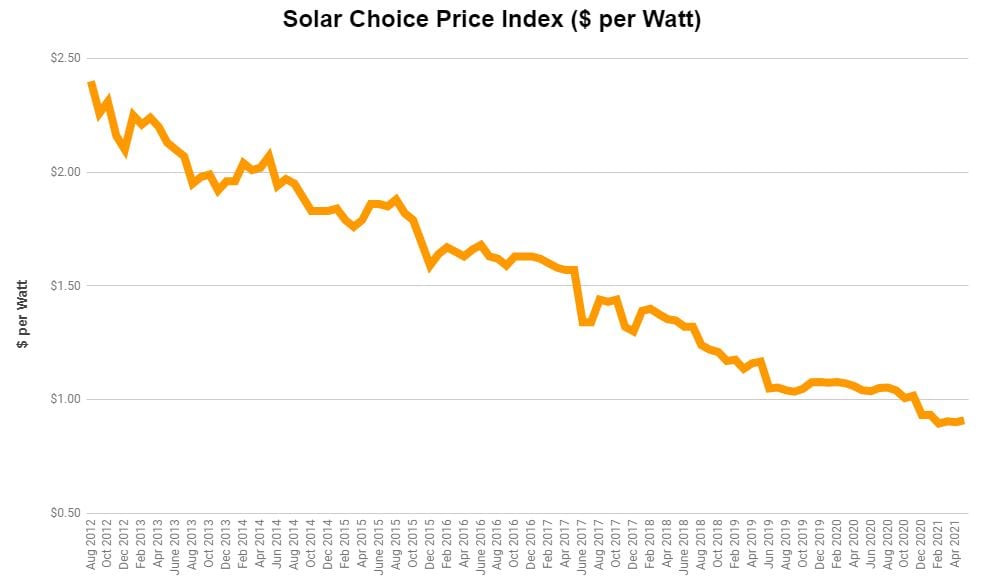 Now, if we take a further look into this graph you can see that the cost per watt for solar dropped very fast at the start. Since around 2017 it's seriously slowed down. Although it's still dropping, it's slowed a lot. 
In fact, the difference in price for a solar system in 2017 compared to one in 2021 is only around $2000-3000 (this is based on 370w solar panels and a 6.6kw system). For most people, you probably would have spent this on energy bills over a 4 year period anyway? 
Personally, I think that solar is still going to come down in price but it will be at a much slower rate than 10-15 years ago. Given this data, you can see that actually solar hit an all time low at the start of 2021 but has slowly been creeping up. This could be due to covid or other external factors.
Government Incentives Won't Last Forever Guys, They've Warned Us
Oh I wish they did!
I suppose it's just one of those things. We've been warned as well. Our federal government solar rebates (also known as the STC certificates) started in 2011 and are planned to be phased out by 2030. 
That's just 9 more years!!! Sounds like a long time but believe me we all know it will come in a flash. 
For Victorians, we have the amazing solar homes program which kicked off back in 2018 giving homeowners access to a lovely discounted solar panel rebate. This is planned to last 10 years, so take advantage of this whilst it's there. This is the same for the Vic solar battery rebate as well, as I think this is only going to last a few more years as well. 
Seriously, these rebates are not going to last forever. If there ever was a time to take advantage of these, it would be now. These incentives can seriously help homeowners achieve affordable solar energy and fast pay back periods. 
We've certainly seen this with the drop of the solar battery rebate (twice…) from $4,174 down to $3,500 down to $2,950 starting from July 2022.
Right Now, Our Customers Are Messaging With Regrets For Not Getting Solar Sooner
You would not believe how many customers we've previously sent a proposal to in the past have come back and mentioned their regret for not installing solar energy when they should have. 
In hindsight, some of them could have paid off their systems years ago. It's crazy how we put things off until it's too late then rush to buy solar when it's super busy and installation could take a few weeks. 
Overall, this was clear to show us just why waiting for solar seems to be the worst choice in today's market. It's honestly best to consider that no one can predict the future but the forecast suggests self independence seems to be the winner.
Even If You Have Plans To Sell, Here's Why Solar Could Actually Help You…
I know from saying it aloud it sounds kinda stupid, but getting solar even if you plan to leave could actually be a very wise investment. For this, I'd certainly look into a system that has a fast payoff period so that you can start saving money straight away. 
Usually you can get really fast pay back from panels like Trina, Longi and Jinko. Additionally, solar panels actually increase your property value! When it comes to selling, you have assets and can put the value of your property up higher. 

Again, you would have even saved a few $1000 or more on bills from your system plus the increase in property value… Sounds like a good investment to me?
Think about the current housing marketing right now, and the situation towards energy retailers who can increase the cost of your bills at any moment. We as humans are looking to become more self independent in the future.
Houses with solar can allow this freedom of not being tied into energy retailers and prevent going broke with insane energy price hikes like we are seeing right now.

To be honest, I think it's a stupid idea to be waiting for the price of solar to come down before you install. So to answer your question, should I install solar or wait, I think it could be an expensive mistake to keep waiting. 
Take advantage of these rebates whilst they're here and free yourselves from the shackles of these crafty energy suppliers. 
I think it's a much nicer feeling having your money spent on a solar system than in the pockets of some multi-millionaire energy supplier. At least with solar you know you're getting your money back. 
I'd be interested to know your thoughts in the comments below. Are you waiting for solar or have you already cashed in on your system and living the 'sunny' life? 😆
Luke Cove
Managing Director
Lightning Solar & Electrical