Everything You Must Know About The Solar Panel Rebate 2022
Since the solar panel rebate is dropping and changing faster than we can keep up with, it's best that we've created an article that we can constantly update every time we receive news on the solar panel rebates. 
I've got all of the information for solar rebates set by each state and also all of the information set for the federal government STC's solar panel rebate. 
This is the main rebate to be honest, the federal panel rebate. This is due to be phased out over 15 years until 2030. Honestly, the rate that these rebates are dropping is something to seriously consider. 
Did you know that 2 years ago you could claim up to $6,000 in the South Australia Battery Scheme. Fast forward to 2021 and that's down to $2,000. The cost of a solar battery has not dropped, it's roughly stayed the same. 
Either way, solar panel and battery rebates are amazing incentives given by the Australian government to help homeowners overcome the upfront payments of solar. There are some pretty cool interest free loans available as well.
If you are ready to start claiming your solar panel rebate, don't hesitate to speak to our design engineers and get a solar proposal here. You can find out more information on each area on our website. 
Ok, let's get straight into this. Here's everything you need to know about the solar panel rebate.
What Is The Solar Panel Rebate?
Ok, so the solar panel rebate is a financial incentive offered by the government to entice homeowners to move towards solar energy. This is in the form of a rebate which gives the homeowner a direct discount on the solar system they buy. 
In more simple terms, the government will pay for some of your solar system. It's as easy as that. You buy a solar system and the government will give you a "rebate" (similar to a refund) in return. What an amazing thing! 
There are many different types of solar rebates for different solar products. Here in Australia we have rebates for solar panels, solar batteries and solar hot water systems. For each different renewable solar product there is a different rebate.
Who Provides The Solar Panel Rebate?
Well, we're all thinking the same thing. Ok then, where is this money coming from? The solar panel rebate is provided by the government as an incentive for homeowners to move to solar energy.
This is provided by the federal government of Australia and is offered nationwide to all homeowners in every state. Now, there are also other rebates available at state level. These are in place by the state governments. 
Each panel rebate is slightly different from state to state and is provided by the Small-scale Renewable Energy Scheme (SRES) in Australia. The Clean Energy Regulator provides two schemes: 
Large scale renewable energy targets which encourages investment in renewable power stations. These are pretty much commercial solar rebates. 
Small scale renewable energy scheme which supports small scale installations like solar panels and solar hot water systems. These are the most common, residential solar panel rebates. 
These 'rebates' are offered in the form of a certificate by the REC (Renewable Energy Certificate) which requires you to be a member to claim these incentives. 
This is an important factor to consider, which is why your solar installer will help. I'll go into more details about the easiest way to claim rebates below.

Are You Eligible To Claim This Panel Rebate?
Fortunately, it's actually really easy to be able to claim the solar panel rebate. This means that pretty much all Australians can take advantage of this panel rebate which will not be around forever. 
Here are the current requirements for claiming the federal government solar panel rebate: 
Own a solar system less than 100KW

Be a resident of Australia

Installed by a CEC accredited installer

All components of the system must be new
So, as you can see above, the requirements are not strict. This is really good for homeowners and pretty much anyone can take advantage of the federal government solar rebate.
There are two ways you can receive your STCs:
You can assign your STC's to your solar installer in return for an upfront cash deduction on your solar system.

You can sell them yourself. 
Most homeowners obviously go for number 1 because you are getting a more affordable solar panel system and of course you don't have the hassle of selling your STC's yourself. To be honest, I don't see any benefits for homeowners to try and sell their own STCs.
Each State Can Set Their Own Additional Rebates
One cool thing is when states set their own solar rebates available for homeowners who live within their state. These are set at state level and funded by the state government.
We see this a lot actually. Mainly in Victoria and South Australia. New South Wales also set their own solar rebates but they are not as strong as the other two. 
The moral of the story is, you might be entitled to some extra incentives to go solar provided by your states. This is extremely beneficial because you can claim the solar panel rebate plus any other rebates set at state level. 
This is common in Victoria, where homeowners can claim the solar panel rebate plus another rebate available of up to $1400 from the cost of their system as well. 
Make sure that you are checking which solar rebates are available in your states below:
Victoria & South Australia Has The Best State-Wide Rebates…
Overall, I'd say that Victoria and South Australia have the best state owned solar panel and battery rebates. This is because they actually give you a direct rebate / discount off the cost of your solar panels or battery system. 
The other states just seem to provide an interest free loan which is still good, but not quite as fancy as getting a huge chunk of your system paid for. It would be interesting to see if any extra rebates get added in the future by these states. 
As we now move into a booming demand for EV vehicles, it would be good to see a rebate available on home EV charging systems. Homeowners can then take advantage of getting a solar EV charger installed at their home and maximise their savings. 
So, for anyone living in these two states… Take advantage of these rebates whilst they are still available. Honestly, they drop so quickly and it's best to get them while they're hot.

Solar Panel Rebates Won't Last Forever
Which moves me nicely onto my next point. Solar panel rebates will NOT last forever. 
I don't know if you've had a look at the history of the rebate, but I remember the days of 2019 where the Victoria solar panel rebate sat at $2,225 for eligible homeowners. It's now sitting at $1,400 and it's only been 2 years. With this forecast, waiting another 2 years might be an expensive mistake. 
The same story applies in South Australia. 2 years ago they offered homeowners a chance to claim up to $6,000 off the cost of a solar battery and installation. This dropped back in September to a maximum of $2,000! Again, the forecast is to keep dropping year on year. 
Lastly, let's take a look at the solar panel rebate available for everyone. This is set to end on the 31st of December 2030. 
Now, I know you might be thinking "Oh well that's ages away…" Yes! But they are phasing out the rebate over the course of 15 years. It doesn't just stop on a certain date. It keeps dropping and dropping until it finally phases out in 2030. 
That means every year you can claim less rebates on your system. You will have half the rebate in 2026 compared to 2020. If you are thinking of waiting, I've written a thorough guide on whether or not you should install solar now or wait for prices to drop.
STC's Are The Federal Government Rebate, Meaning Every State Can Claim This
Essentially, when I say solar panel rebate I'm talking about the federal solar rebate in the form of STC's. These are available nationwide for all homeowners and are really easy to claim and get. This is the panel rebate that will be phased out by 2030. 
This is the main solar panel rebate and probably the most important one. You can save a considerable amount on your solar system using this helpful incentive. 
I'd say that Small Scale Technology Certificates are the most popular financial incentive given by the government. STC's are certificates given to homeowners when they install a small renewable energy system at their home. 
It's easy to look at STC's like shares in your solar system which you can sell for money. Essentially they are environmental credits given by the government as rewards or incentives for buying solar.
How are STC's calculated?
Small-Scale Technology Certificates are calculated based on the amount of energy the solar system produces over its life-time. This correlates to the size of your system as well, the bigger your system the more STC's. 
Another factor that is used to calculate STC's are locations and when the system was installed. Solar panel systems have allocated STCs of up to 15 years whereas solar hot water is only 10 years. 
So, overall the factors are the size of your system, your location, the date of when it was installed and the energy production. You can actually calculate your predicted number of STC's here.
Small-Scale Technology Certificate Zones Australia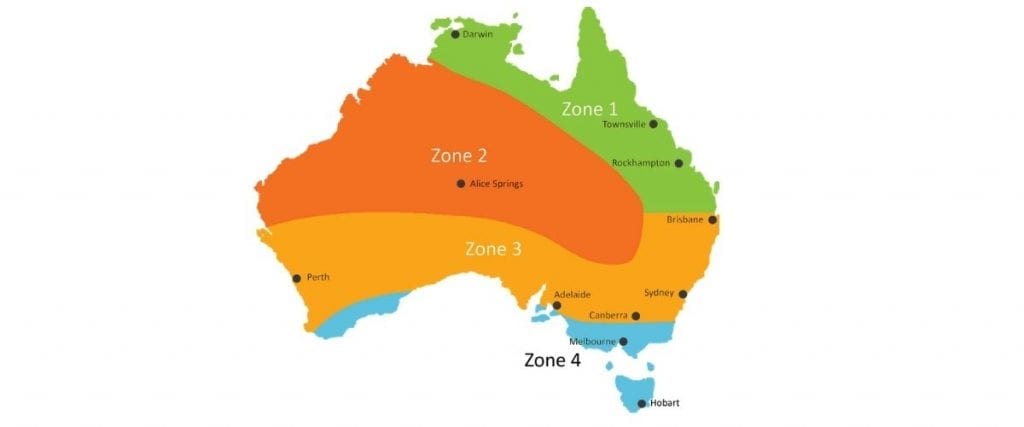 Here's The Easiest Way To Claim The Solar Panel Rebate
Ok, honestly the easiest way to claim your solar rebates is through your solar installer. You can assign your STC's to your solar installer in return for an up front cash reduction on the system they quoted you. 
I'd say this is best for homeowners because it's easiest. It's stress free. You get to see direct cash savings. You don't have to waste your time trying to sell your own STC's. 
Now, of course you are able to sell your own STC's but just remember the process. You will need to apply to become a member of the REC before you are eligible to sell your STC's. You will then need to find an appropriate buyer for a reasonable price. 
One thing to always consider though is the prices that STC's are being sold at compared to the price you are being quoted. There are 2 different prices, the spot price vs the market price.
So, we will keep this article updated every time that we hear news of any changes. This stuff does seem to change regularly and continues to drop. 
At least you can clearly see what you are eligible or entitled to now. Pretty much everyone can claim the solar panel rebate (STC's) but only certain homeowners can take advantage of the state-wide solar rebates. 
Just remember, if you're interested in solar you should consider taking advantage of the rebates now. Solar systems are not dropping fast enough in price compared to the solar rebates. They are literally dropping faster than solar can handle. 
If you have any questions don't hesitate to comment below. The same applies for any homeowners who have any helpful experiences of information to share with everyone below.
Luke Cove
Managing Director
Lightning Solar & Electrical