LG Vs SunPower: Why It's An Easy Win For SunPower...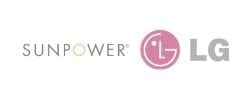 I can tell you right now, that this is one of the most common questions that every solar installer in the world will get asked. 
I would also say this question has been asked for decades, everyone wants to know the answer. 
Which should I go for, LG or Sunpower?
Which is better value for money?
Which of these panels are the best? Is one better than the other? 
LG vs Sunpower… Which would I choose (as an experienced solar installer)?
Well, where do I start. There is so much to cover to get the answer that we are looking for. I'm going to take a good look at both of these solar panels so that you can decide which one is the winner for you. 
Ok, so let's dig in deep and look at both of these solar panels for a logical buyers perspective to find out which one is best. 
If you are still in research mode and unsure on what solar systems you need, please feel free to read my guide on how to buy the best solar panels for your home. 
For those of you who are ready and decided, feel free to get a quote from me for either Sunpower solar panels or LG solar panels by clicking on the links. I've also done a FULL Sunpower solar panels review here if you want to know more about them (and why they might be your favourite)…

LG Solar Panels Vs SunPower
Well. I suppose that's a very easy question to answer right now. Considering that SunPower made an extremely bold move back in January 2022 by moving their warranty from 25 years to 40 years, it shows they are in the market to stay. 
I honestly think this move may have triggered LG Solar to reconsider their position in the market. Shortly after this announcement, in Feb 2022 LG announced its shock exit from the solar industry. 
Now, shock for most… I feel like me and my team saw this one coming for a while. The trouble is the market is evolving at a very fast pace. Jinko is bringing out more affordable and high value panels than ever. They're equipped with high end N Type technology (notorious for high performance) and come in at a fraction of the price of LG offering the same 25 year warranty.
It just seems like LG had slipped from its unique selling point of having the 25 year warranty which a few years ago was uncommon in the solar industry. This allowed LG to sell panels at a high price. 
But when the competition changed and the market evolved, LG didn't adapt. Although bringing out a more affordable module of panels the Mono X they only gave this a 15 year warranty? 
For a small extra cost you could get Jinko N Type panels with 25 year warranty, so it just didn't make sense to look toward LG anymore. Sunpower on the other hand, they will always dominate the industry even more so with their 40 year warranty.
People choose LG and SunPower because they are high quality, so which one is better?
It's really hard to say. Both of these solar panels are super high in quality. This is the reason why they are both so popular. People buy LG and Sunpower based on their performance and quality. 
However, when I take a deep dive into their performance it does show that SunPower might have the lead here. To work this out I took a look into the degradation of both LG and Sunpower solar panels. 
SunPower guarantees that after 40 years, their solar panels will still perform at 92% of initial output. Whereas LG solar guarantees 90.8% after 25 years, which is just less. 
Although it may not seem a lot, when you add up each solar panel it does make quite a difference. This means that you will be getting more energy from a SunPower system after 40 years, over an LG solar system. 
So in saying this, I would say that Sunpower does perform better than LG in terms of quality and long term performance. If this is something that's important to you, then Sunpower is your right system.
Sunpower's Performance Towers Over LG!!

Sunpower Offers Almost Double The Warranty Compared To LG Panels
This is the part that gets me super excited. Sunpower threw LG completely out of the water with their whopping 40 year solar panel warranty. It's safe to say, when you choose sunpower you are choosing solar for life. 
I'd even look to argue this is what pushed LG away from the market. The time frames seem to coincide with each other as LG made a shock exit only 1 month after this announcement. We always found in Australia homeowners looking for quality solar would consider these two brands. 
That means they directly competed with each other. Now, if you get these two panels for around the same price but one is offering a 40 year warranty, the other is offering a 25 year warranty. What are you going to choose?
Let's be honest. We're all thinking the obvious here. Yes, we would all go for SunPower. 
By the way, the 40 year warranty is only on the Maxeon modules, which I've reviewed here.
SunPower solar panels manage to beat LG with its solar panel efficiency
Everyone knows that Sunpower solar panels are one of the most efficient in the industry. Shortly following are LG solar panels offering a similar conversion efficiency. 
For the Sunpower Maxeon 3, they offer an incredible 22.6% efficiency. 
For LG NeON 2 you're looking at 21.1% or NeON R 22%.
So yes, Sunpower solar panels are more efficient than LG panels. Essentially on paper, this means that Sunpower panels will convert more sunlight into energy. This would mean that you would get energy for cheaper, and pay off your system faster. 
Again, it seems like Sunpower is dominating this review over and over. Even on LG's best module they come in 0.6% lower in efficiency. That's quite a big percentage considering LG are asking homeowners to invest the same amount of money into their panels.
Especially when price matters, and you can get high quality, value solar panels from Jinko, Seraphim, Canadian or Longi. 

LG Has a Better Reputation And Bankability, But SunPower Is Still In The Market…
Like I mentioned above, reputation and bankability should be something that you consider with these two solar panels. You wouldn't just buy a solar panel that didn't have a good reputation or name for itself. Nor would you trust your warranty with a company lacking finance or close to bankruptcy. 
This is down to it being such a big company with leading market share in the electronics industry as well. LG is more financially stable by the looks of things. They have also been around for much longer than Sunpower. 
I suppose this is super important right now considering the shock exit from LG and how they will support their clients in the future. Fortunately, they do have a very large market share in the electronics market. 
LG has announced it will continue to support LG solar panel owners with warranty defects and any other issues. Although I'd say LG has the better bankability, it's a close argument because they're no longer in the market. 
SunPower is still in the market but if they were to do a shock exit like this, could they support their customers' future 40 year warranties? 
LG Dominates With Its Reputation & Bankability!!

SunPower Are Now Providing Affordable Solar Panels... But LG Have Not Budged On Price
This is where it gets really interesting. SunPower have adapted to the market by making their performance solar panels much more affordable for homeowners. It comes as pressure continues to be placed by other affordable solar panels such as Jinko and Longi. 
However, LG has not. They are still more expensive than Sunpower and have not adapted to the pressure from the market change. This means that you can get SunPower solar panels for a much more affordable price than LG. 
To me this is a bit of a game changer. I mean both panels offer great warranties, fantastic performance and high efficiency. 
I guess it only comes down to one thing now…
Price. And SunPower wins here. By a long way as well. 
Like I always say, with a lower price comes a faster return on investment. Therefore, with SunPower you will be getting the faster return on your solar system when compared to LG. 
If you are looking to slash your costs fast, and take advantage of a speedy return on your investment then SunPower is your panel. 
It's great to see that Sunpower has made this change in price to cater for those who cannot afford the higher end products. It is shaping the solar industry to become more affordable for everyone, after all the sun is free. 
The most affordable from Sunpower range is the performance 3 solar panel.
SunPower Solar Panels Are More AFFORDABLE Than LG Panels!!

How do they compare to cheaper solar panels like Jinko or Longi?
Of course it's always good to compare these solar panels with budget ones like Jinko, Longi, Seraphim or Canadian solar panels. So here is a quick list of all the obvious wins and losses that LG and Sunpower have.
Higher efficiency 
Longer warranties 
More durable product 
Better reputation 
Strong bankability 
Cheaper energy
Expensive (LG)
All size systems will produce the same amount of energy 
Longer return on investment
25 year product warranty
25 year performance warranty 
Temperature coefficient 
20.7% Efficiency (21.1% new model)
12 busbar 
Low LID
Corrosion Resistance Certification
Multi Anti-reflective Coatings
Enhanced low light performance
High Wind Load Resistance
Positive Tolerance (0/+3%)
"CELLO" Technology
High Temperature Performance
40 year performance warranty
40 year product warranty
Temperature coefficient 
Conversion efficiency of 22.6%
Maxeon solar cells 
Low operating temperature 
Pure N-Type silicon cells 
400W in size 
Shingled cells 
Low corrosion 
Solid metal foundation 
Anti reflective tempered glass
So, LG vs SunPower… Which is the winner?
Well, sorry to answer the question for you but considering LG no longer makes panels you're going to have to choose sunpower.
This isn't a bad thing though, I'd argue SunPower are easily the best solar panels in the industry right now offering the best warranties, highest efficiency and even being used by NASA which highlights their durability. 
I've written a full Sunpower review which you can read here. 
Overall, it's a shame to hear LG has left the market however it's a fast moving market and LG simply couldn't adapt to its competitors and still seemed stuck in the early 2010's market. 
If they budge on price or warranty, maybe they could become the industry leader they once were but it seems like it's far too late now. 
SunPower for the win!
Luke Cove
Managing Director
Lightning Solar & Electrical